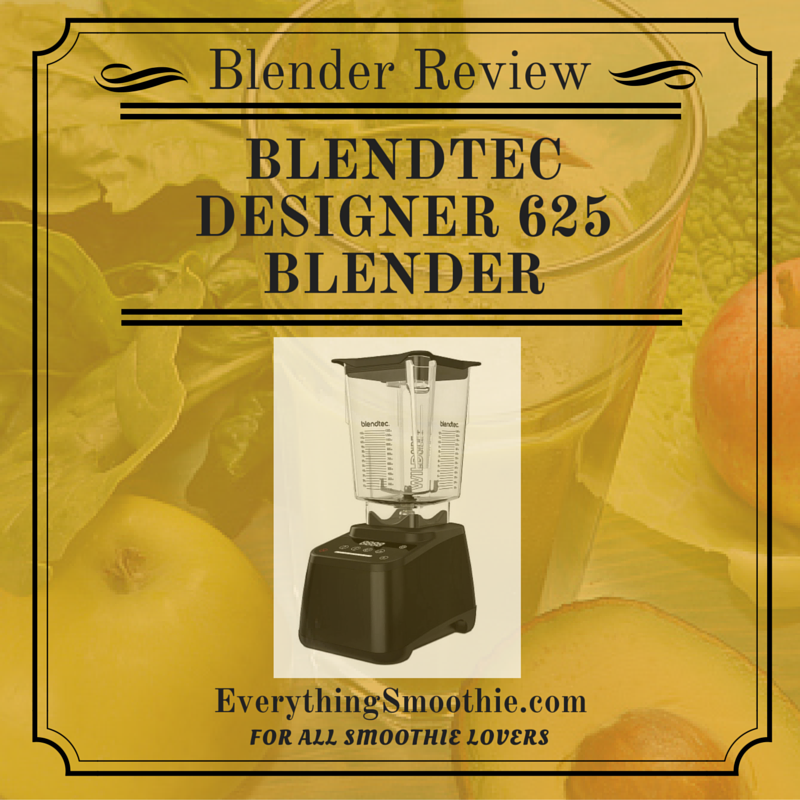 For a few decades, Blendtec  has been selling lots of great blenders for consumer and industrial uses. Fast forward to today, Blendtec is one of the few major blender brands in the world that is highly regarded as the main brands for blenders.
Here, I'm going to review the Blendtec Designer 625 Blender, a very gorgeous looking blender that is perfect for your smoothie.
Different Lines of Blender Series
Before I start, I believe I need to explain a bit about Blendtec's new lines of blenders. Currently, there are 3 different brands for Blendtec's blenders; Classic, Designer and Professional. The performance and price of the blenders increases accordingly with each series.
The Classic series is the old design of Blendtec's blenders. The newer Designer series is an improvement of the Classic and being built with aesthetic in mind. It has a molded square base, with gorgeous finish.
Lastly, the Professional series is mainly for chefs who use their blenders round the clock and have the highest durability and blending power.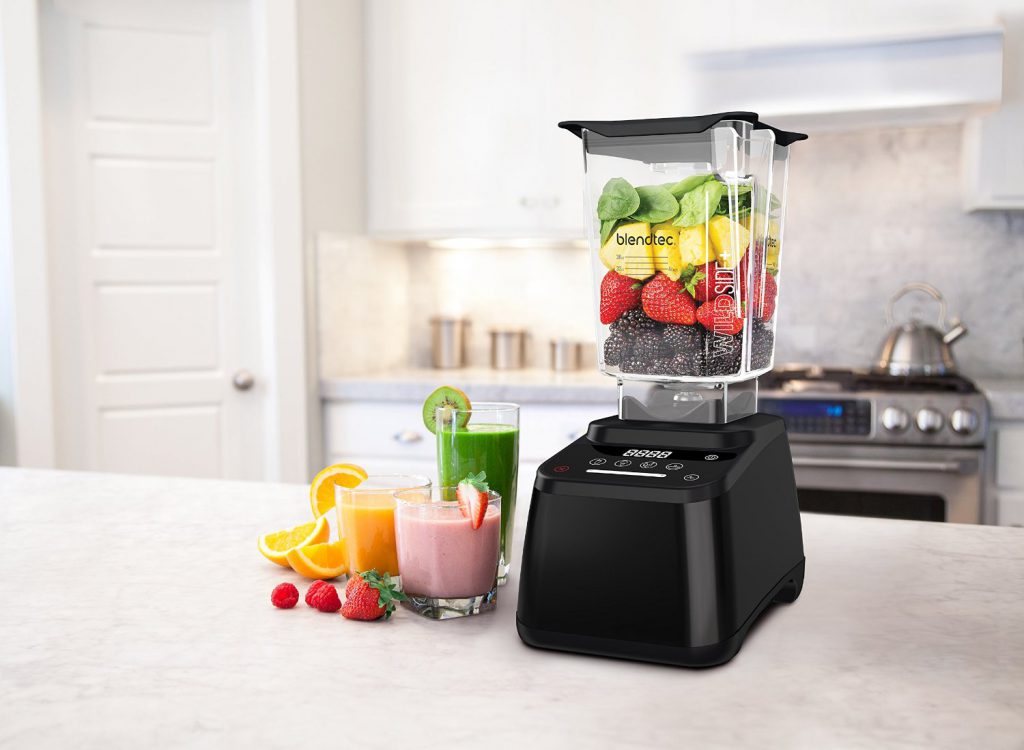 Blendtec Designer 625 Blender Specification
Motor: 3.0 horspower (2237 watt) peak power, 2.1 horsepower (1560 watt) constant power
Dimension: Base of 7″ (177.8 mm) x 9.25″ (234.95 mm) x 15.5″ (393.7 mm) Tall
Interface: Capacitive touch interface
Function: 6 speed + Pulse
Preprogrammed Cycles: 4 – Smoothie, Ice Cream, Whole Juice and Hot Soup
Jar: Wildside+ Jar (90 oz capacity, with measurements up to 36 oz). BPA free
Electricity: 13 amps and 120 volts
Warranty: 8 years
Colors: Multiple (Black, Pomegranate Red, Slate Grey
High Powered Motor
It is difficult not to be in awe by looking at its specifications. This blender has a 2.1 hp constant motor power that is surely able to grind and pulverize everything you put in there (including Iphones, more on that later). It also has a rated 3.0 hp peak motor power.
This peak power will usually happen during the initial stage of blending. If you put in some hard stuffs there (ice, nuts, avocado pit, etc) this huge peak motor power will come in handy to do the initial crush of the hard stuffs.
There is no question that smoothies you make with this blender is going to come up super delicate and smooth. Not only that, its blades are blunt and not sharp. This will avoid risks of cutting your finger while cleaning the blender and also can avoid causing a nick on your spoon.

Easy Control and Programs
Blendtec Designer 625 blender comes with a capacitive touch interface, which is just so futuristically designed and different than the typical knobs that other blenders have. It has 4 preprogrammed cycles: Smoothie, Ice Cream, Whole Juice and Hot Soup.
Just put in all of your smoothie ingredients, select the Smoothie function, and just watch on how the blender pulverize everything and prepare your delicious smoothies in 60 seconds. You can also manually control the blender with 6 speeds and Pulse function for when you are unsure on which program to use.
With this blender, you can basically do anything with it (smoothies, hot soups, nut butter, ice cream, hummus, etc). Check out also Blentec's Recipes on their website. It contains lots of delicious recipes on smoothies, soups, desserts, beverages etc. The instructions on how to make these recipes using their blenders are also stated there.
Gorgeous Design
Have I mention on how gorgeous the design of this blender is? This blender has a tall base and the controls are at the top of the base, not at the front of the base like any other blenders.
This design serves two purpose: it is easier to operate this way since we are looking down to the control (instead of having to lower our head to see if we are pushing the right button). And secondly, it just looks way better than normal blender's control panel.
The touch interface is just so beautifully designed and easy to be used. Not to mention that you can clean the blender easier this way by just wiping on it. It is also not too tall and can fit under any cabinet easily.
If you are making smoothies everyday, this can save you lots of time as you don't have to store and take it out of the cabinet every time you want to use it.
Will It Blend? That Is The Question
Have you watch this on Youtube? If you haven't, you might want to take a look at it at Blendtec's Youtube Channel. Tom Dickson, the founder of Blendtec has been making videos since the last decade on how Blendtec's blenders can be used to blend lots of stufs, from Iphone to whole chicken even a whole can of coke!
Sure, these videos no more than promotional gimmicks but then you just cannot deny Blendtec's capability on pulverizing almost anything. It is just so unbelievable! It gives you the perfect example that with Blendtec, there is no ingredient you cannot blend.
I won't suggest you do all this stuffs with your blender of course, though if you have a few spare Iphones, you can always try to do so. Please let me know the results will ya!
Very Long Warranty Period
This blender also comes with a very long warranty period – 8 years. Such long period shows that Blendtec is very confident and stand by their product and justifies the price you have pay for this blender.
I've got to admit, the only drawback of this blender is the loud noise it make during blending. Well, you cannot really do anything about that. Any high powered blender with 2 hp motor is going to cause some very loud noises.
Apart from that, Blendtec Designer 625 Blender is a very capable and easy to use blender. You won't go wrong with a blender than can even pulverize an Iphone into bits and pieces. It will sure to give you the best smoothie you will ever drink.
If you want to buy Blendtec Designer 625 Blender, check it out at Amazon. Amazon currently offers the cheapest price for Blendtec Designer 625 Blender right now.
–> Check Out The Best Price Of Blendtec Designer 625 Blender on Amazon <–