Breville Boss Blender BBL910XL Review
In this post, I'm going to write about Breville Boss Blender review, a blender that is currently trending right now.
With the Boss, Breville had made a great job making a blender that is frequently put in the same league as Vitamix and Blendtec and other high performance blenders out there.
And the best part? The Boss blender is much cheaper than the two top blender brands!
And looking at its specification, the Breville Boss Blender certainly have the muscles to be a top performer.
Here, I'll try to lay out all the facts regarding this blender so that you guys can know what this awesome blender can do.
Breville Boss Blender Specification (BBL910XL)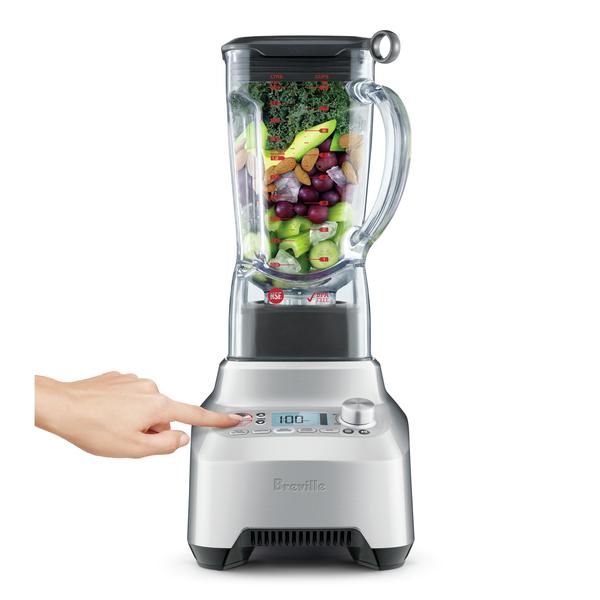 Dimension: 7.8″ x 9.5″ x 18″ height
Weight: 8 pounds
Base: Durable die cast metal base
Pitcher: Eastman Tritan Copolyester BPA-free shatterproof pitcher, 68 oz or 2 liter capacity
Function: LED display, 5 pre-programmed speed settings, 12 manual speeds, pause button, timer and auto-clean setting.
Blade: 3 stainless steel blades within ProKinetix blade and bowl system.
Where To Buy: Amazon for the lowest price! Click the link below to know more.

Breville Boss Blender BBL910XL

Solidly Built Blender With Heavy Duty BPA-Free Pitcher
The Breville Boss BBL910XL has a medium dimension, not too big and not too small. It's also solidly built as it's made from heavy duty die cast metal base.
It has the brushed aluminum look, which really is nice to look at and gives a premium feel (after all you are paying a premium price for it).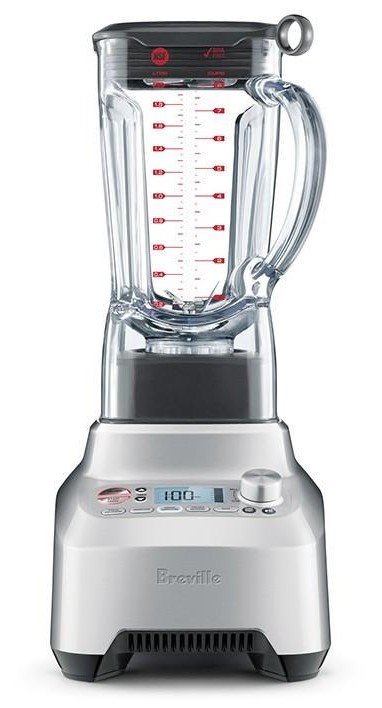 The square boxy look of the base reminds me of
Blendtec Designer blender
  though the Blendtec is prettier to look at. The control panel is placed at the top of the base, making it easy for you to pick the see and pick the function you want.
Besides the 5 preprogrammed buttons, there is an on/off button, start button, timer buttons, manual speed adjustment knob and an LCD displaying the timer and manual speed.
The blender comes with a 68 oz Eastman Tritam Copolyester. It is a BPA-free polymer designed for extreme usage (think milling nuts, cooking hot mushroom soups) with the blender. It's also feels solid, very durable and can be used for repeated dishwasher cleaning.
The pitcher is impact and shatter resistant, a must for a 1500 watt blender. One of the downside of plastic pitcher is that it can absorb some odor from smelly foods like garlic, carrots, etc.
Luckily, this pitcher has been designed to withstand soaking using warm soap water to get rid of any pungent smell. The pitcher comes with a lid with an circle opening at the center for using tamper or if you want to add some ingredients later on.
The lid is sealed tightly, but can be opened quite easily by a fingerhole ring at the corner of the lid. Just take note that if you are blending some very hard ingredients like nuts, spices, grains, etc. there will be some scratching on the inside of the pitcher's surface.
No, it won't really affect the blender performance or make the pitcher break, but some people (me included) does not really like to have these sort of things on their shiny new blender. Consider this a friendly reminder =)
Prokinetix Blade and Blow System With 1500 Watt Motor For Super Blending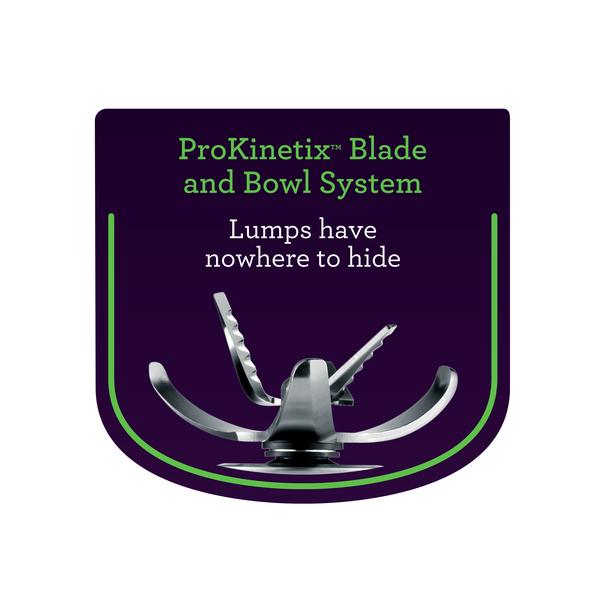 Breville Boss BBL910XL has a powerful 1500 watt or 2 horspower motor for some serious blending power.
But a powerful motor is not extraordinary nowadays. Plenty of blenders right now offers the 1500 watt motor.
Blenders cannot just rely on powerful motor to create a smooth blending. It's just like a powerful engine for a car.
If a car only has huge horsepower but the other components are crap – e.g bad suspension, bulky non-aerodynamic body, newbie driver – the car won't win any race.
A good blending will comes from an various components of the blender. Knowing this, Breville invented prokinetix blade and blow system.
Prokitetix blade and blow system on the Breville Boss BBL910XL consists of the 5 blades and the bowl shape bottom of the pitcher.
To sum it up, instead of a normal 3 blades like normal blenders, it has 3 additional blades.
The special thing about these 3 blades is that it is positioned close at the bottom of the pitcher and it's curved in shape, curving along the pitcher's bowl bottom.
Breville states that this blade configuration will help to make sure every ingredients are crushed and pulverized for a smoother outcome.
A finer texture of the smoothie will increase absorption of nutrient by our body, and no more sip and chew!
A video showing the functions of the Breville Boss BBL910XL Blender
Super Easy To Use Auto Functions
Its easy to use automatic functions are one of the reasons I really like this blender. To start off, it got 5 preprogrammed functions (Pulse/Ice Crush, Smoothie, Green Smoothie, Frozen Dessert and Soup), 12 manual speed settings (controlled by a circle knob at the right. Cool!),
Auto clean button and pause button. The 5 pre-programmed settings are what makes it very easy to use.
Breville has set these settings based on their experimentation. Each setting has its own pattern of blending speed, pulsing, pause time, etc.
Want to crush some ice? use the pulse/ice crush button and it will stop once the sensor detects all the ice has been crushed.
It can also be used to give sudden burst of power to break down hard ingredients or "pulsing" – just like other blenders.
The smoothie button is for normal smoothie ingredients. It will combine, blend and aerate frozen and liquid together to create a creamier texture for your smoothie.

Breville Boss Blender BBL910XL

Green smoothie button is for smoothies with lots of green vegetables in it and it is my personal favorite.
You can read my post on the huge benefits of how to make a green smoothie and its huge benefits on losing weight, lowering cholesterol, increase brain health  and many more.
This function is basically the same as Smoothie but blends at a higher speed for longer time. This is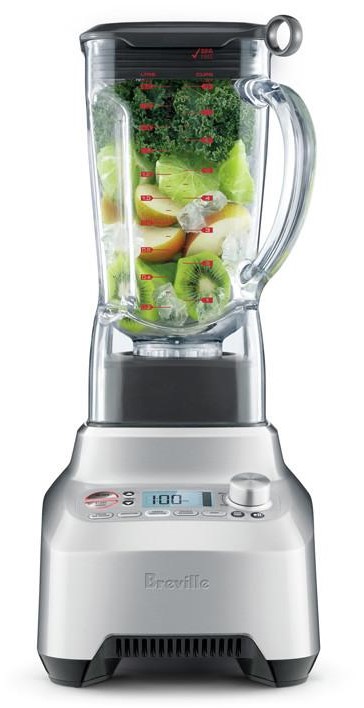 because vegetables has tough cellulose walls that are just harder to break down compared to fruits.
Frozen dessert will blend frozen fruits, yogurt, etc together to create delicious sorbet. The soup function will run for a few minutes to blend and heat the ingredients at very high speed. The friction that comes from the blade will heat up the soup.
While using this function, be careful to not put more than 40 oz of fluid into the blender. This is to avoid any hot liquid bursting form the blender (and onto us. Ouch!).
Breville Boss BBL910XL blender has a circle knob to control the manual speeds. It is very responsive and cool to use, like you are using an industrial motor or something. Rotate clockwise to speed up.
It ranges from stir (lowest speed) to mill (highest speed). The LCD display at the center will indicate how fast the blender is running currently.
An auto clean button is a very convenient tool. Simply put 2 cups of warm water and a few drops of soap detergent. Press the button and it will clean the blender thoroughly. Rinse afterwards.
Inside the box is also a scraper spatula to scrape food from the pitcher wall and a tamper, for pushing things towards the blender.
An excellent review of the Breville Boss BBLX910. Check out this video to see the blender up close!
Conclusion
Breville Boss BBL910XL is a tough, easy to use and produced great smoothies all thanks to its 1500 watt motor and innovative prokinetix blade and bowl system.
The auto function is just so easy to use and works really well. This is a blender that you have to seriously consider as an alternative to Vitamix and Blendtec.
Amazon currently carries this blender in their website and have a free shipping offer right now. Check out the link below to go to Amazon and get it at the lowest price.

Breville Boss Blender BBL910XL