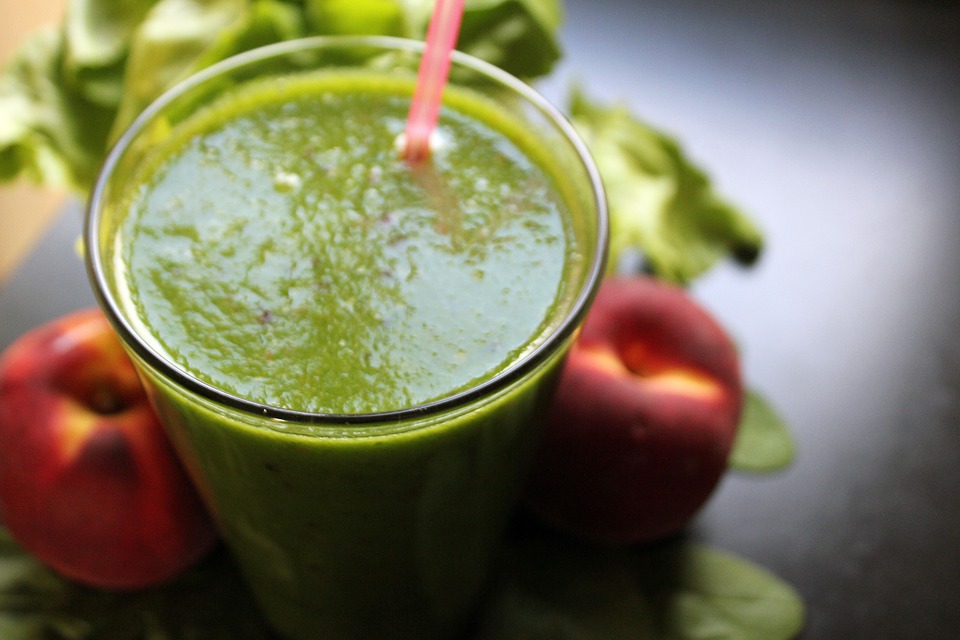 Today I'm going to write about one how to make a healthy smoothie recipes with spinach, of my favorite vegetables. I've always love spinach. My love for it grew when I was a kid watching Popeye on the TV. Popeye was always in trouble but luckily, he has a can of spinach with him. Just by eating the spinach, Popeye become super strong and can solve any problems in front of him.
Now I know it's just a fiction, and people can't get super strong just by eating spinach (you have to lift weights to be strong by the way). But it's a cool way to coax a little kid to eat his vegetables. Another reason why I love spinach is because of its bland taste. It's very different than other vegetables that are bitter. Fast forward to today, I now know that spinach is one of the most nutrient dense fruit with lots of benefits and our love affair grows stronger than ever.

What Nutrient And How Much Of Them Does Spinach Has?
Spinach contain no less than 2 dozens of various nutrients in it. Below list are some of the:
1- Vitamin K – 888 mcg or 987% of RDA
2- Vitamin A – 943 mcg or 105% of RDA
3- Manganese – 1.68 mg or 84% of RDA
4- Folate – 262 mcg or 66% of RDA
5- Magnesium – 156 mg or 39% of RDA
6- Iron – 6.43 mg or 36% of RDA
7- Copper – 0.31 mg or 34% of RDA
8- Vitamin B2 – 0.42 mg or 32% of RDA
9- Vitamin B6 – 0.44 mg or 26% of RDA
10- Vitamin E – 3.74 mg or 25% of RDA
*RDA = Recommended Dietary Allowances
There are dozens of nutrients in spinach but I only listed the 10 most abundant nutrient of it in the list above. The nutrients above are listed based on 1 cup (180 g) of spinach and according to their percentage of Recommended Dietary Allowances (RDA) taken from here .
What Are The Health Benefits Of Spinach?
As one of the most nutrient dense vegetables, the health benefits of spinach is very large. It is rich in Vitamin K, A, B2, B6, E, C and B1. It also contain lots of minerals such as manganese, folate, magnesium, iron, copper, calcium and potassium. Not only that, it is also high in fiber.
One of the things that make spinach really stands out is the huge amount of phytonutrients (minerals in plants) that have anti-inflammatory, anti-cancer and anti-oxidant effects. This is a normal occurrence in leafy green vegetables . Their vibrant green color can house lots of phytonutrients that are very beneficial to our body.
The nutrients in spinach can help with reducing high cholesterol level and also high blood pressure. This in turn will avoid a myriad of diseases such as heart attack, stroke and many more. Anti-oxidant in it can also protect brain cells from oxidization damage. It will help to increase our brain health and prevent declining mental faculty such as forgetfulness, loss of problem solving ability, Alzheimer and other symptoms typically associated with older folks.
Spinach And Vitamin K: Weapon Against Osteoporosis
Another great thing that I want to point out is the huge amount of Vitamin K in spinach. In one cup (180 grams) of spinach, we can get up to 800 mcg of Vitamin K, 8 times the recommend daily amount of it! Famous for helping with blood clotting, this vitamin also has another usage: helping increase bone health by preventing activation of cells that break down bone.
Due to this, it is very helpful in preventing osteoporosis (for those that didn't know, osteoporosis is the decreased bone strength which is very susceptible to happen with menopause women). The usual weapon against osteoporosis is calcium (milk) and Vitamin D(exposure to sunlight). Vitamin K in spinach will be able to help preventing osteoporosis.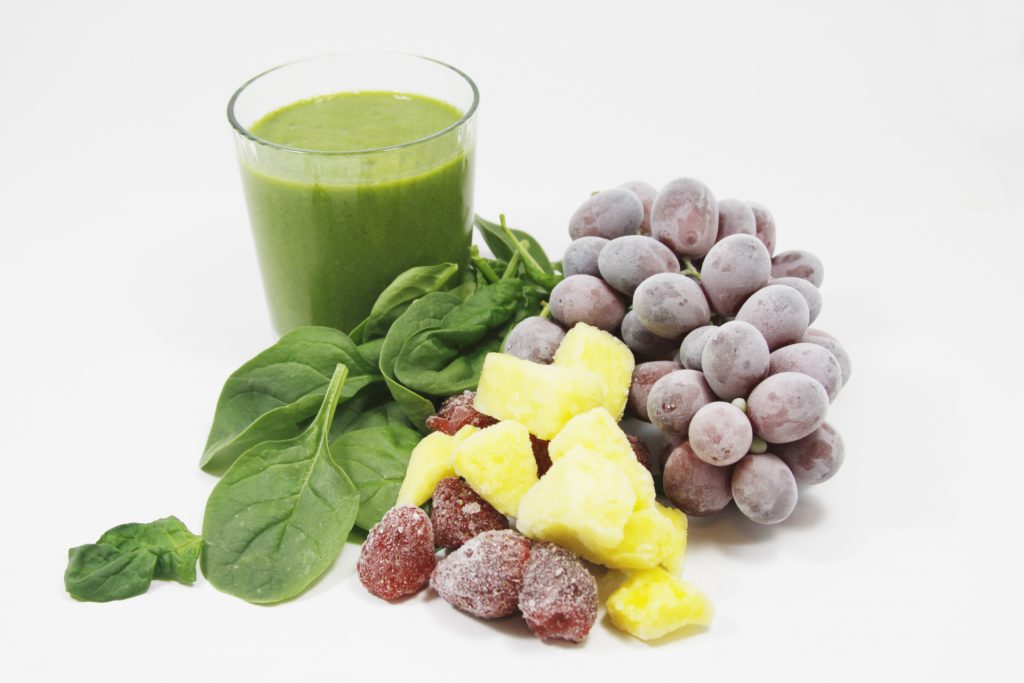 Healthy Smoothie Recipes With Spinach
Now, let's move on to how to make healthy smoothie recipes with spinach as its ingredient. I have chosen 3 delicious recipes to share with all of you. All recipes listed below belongs to allrecipes.com, my favorite recipe site. They have lots of recipes submitted from users to be tried. I always go here to find some new ideas for cooking. Unfortunately I can't post any photos from the site. But I've added the link to allrecipes.com at the recipes' title if you want to check out the recipes photos. Now let's get on to it.
A basic spinach and banana smoothie, which is my favorite! The banana and soy milk (you can use any milk btw) will give the sweetness to the otherwise bland spinach.
Ingredients:
1 cup plain soy milk -> any milk is good enough
3/4 cup fresh spinach
1 large banana, sliced
Direction:
Put all ingredients into a blender and blend thoroughly. You can also add some ice to make the smoothie cold and refreshing.
A step up from the recipe above. Introducing kale, a contender for the title of the king of leafy green vegetables! Some people say kale is better than spinach, some people say otherwise. This recipe just take both of them and create one super healthy smoothie out of them.
Chia seeds is optional in this recipe. If you want to put it in, my recommendation is to put it separately, i.e not blend it together with the smoothie. Just put it in the finished smoothie and stir. Drinking the smoothie with the seeds intact will add more texture to the smoothie which I really love.
Ingredients:
2 cups fresh spinach
1 cup almond milk -> any milk is good enough
1 tablespoon peanut butter
1 tablespoon chia seed (optional)
1 leaf kale
1 sliced frozen banana
Direction:
Put all ingredients into a blender and blend thoroughly. You can also add some ice to make the smoothie cold and refreshing. Chia seeds to be put into the finished smoothie and stir. Wait for 15-20 minutes to let the seeds to absorb the moisture. You might need to add more water at this point to replace the absorbed water.
Hala kahiki means pineapple in Hawaii. Its a very refreshing smoothie will all the Vitamin C rich fruits and not to forget, our spinach. The original recipe calls for flax seed, but I think chia seed is much better (you also do not need to ground it, unlike flax seed).
Ingredients:
2 oranges, peeled
2 cups fresh spinach
1 cup water
1 cup chopped fresh pineapple
1 cup red seedless grapes
1 cup ice
2 tablespoons ground flax seed -> or chia seeds
Direction:
Put all ingredients into a blender and blend thoroughly. An alternative is to freeze the fruits beforehand. That way, there is no need to use ice in your smoothie.
I hope you enjoy the healthy spinach smoothies. I would like to remind that not all blender can thoroughly pulverize spinach. Like other leafy green vegetables, spinach has a hard cellulose walls that is harder to be cut compared to fruits, and you will only get lumps of greens which is not good to drink at all (trust me, I've done that..). Because of this, I recommend you guys to buy a high performance blender to make your smoothie. You can see some of my reviewed blender at the menus on top of the site which are great for your usage. Some of my favorite blenders are the Vitamix Professional Series 750, Breville Boss and Blendtec Designer 625.
Drop your comments on the form below to share your results of making these smoothies. Till next time. Cheers!