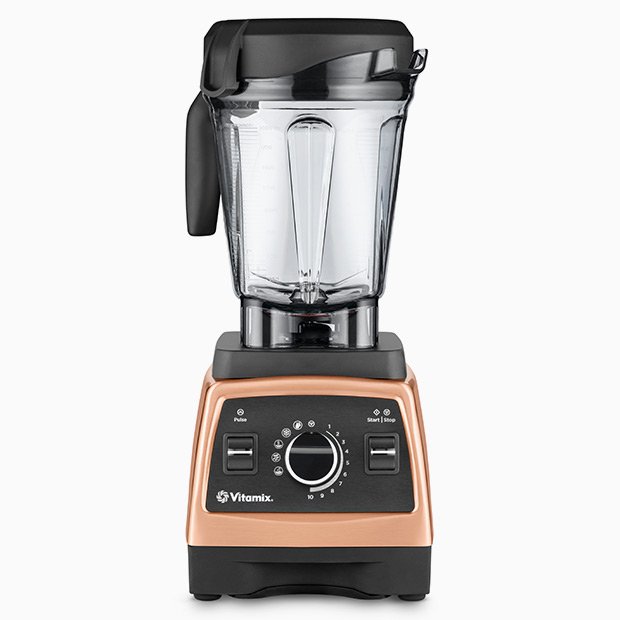 Vitamix, a brand that no need to be introduced anymore. Established in 1921, Vitamix has grown to be the leading company in blending technology. Starting from a healthy food business, it has developed into the most famous blender associated with high performance.
The Vitamix Professional Series 750 Blender is another blender from that same company. It is fully packed with lots of features, from making smoothies, to making frozen dessert, to kneading dough, and even slicing and cutting ingredients! It's the only thing you need in your kitchen to prepare your food effortlessly and conveniently.

Vitamix Professional Series 750 Blender Specification
Dimension: 7.7 x 9.4 x 17.5 inches
Weight: 12.5 pounds
Pitcher: 64 ounce BPA Free Eastman Tritan copolyester. Low profile jug that can fit under most kitchen cabinets
Motor: 1440 Watt with peak power of 2.2 horsepower (1640 Watt)
Blade: 4 inches stainless steel blade
Features: 5 preprogrammed settings (smoothies, frozen desserts, hot soup, purees, self cleaning cycle), 10 variable speed settings, radial cooling fan and thermal protection system to prevent overheat of motor and processor unit.
Warranty: 7-year Full warranty
Cheapest Place To Buy: Amazon
Low Profile Blender That Fits Under Your Cabinet
Older designs of the Vitamix has always been tall. The Vitamix 5200 is an example of the Classic Series of the Vitamix blenders where the pitcher is slim and too tall to fit under kitchen cabinets prompting many comments from users.
Well, for one the blender is that tall partly because of the large and sturdy base – larger than most blenders out there. This proves how Vitamix blender's motor and internal parts are bigger and more robust than their competitors. Bigger engine will always make your car faster right?
The Next Generation blenders by Vitamix just change it all. The Vitamix Professional 750 is the middle product of this series. The base height is kept the same, but the pitcher is made shorter, but wider and still retaining its 64 ounce capacity.
The pitcher is BPA free and made by shatterproof Eastman Tritan Copolyester. With this, you will get a wider 4″ blades that will give better blending because of the increase cutting area of the blade.
Vitamix claims this blender will fit under most kitchen cabinets. If you have a very low cabinet, you can just detach the pitcher and put it side by side with the base.
The blender comes in 7.7 x 9.4 x 17.5 inches dimension. It weighs 12.5 pounds and is very sturdy and won't shake while blending. As I've mentioned before, Vitamix blender base is bigger and heavier than most blenders out there.
It seems they thoroughly think this to make it big and heavy so that users won't need to hold the blender to stabilize it while blender at the highest speed.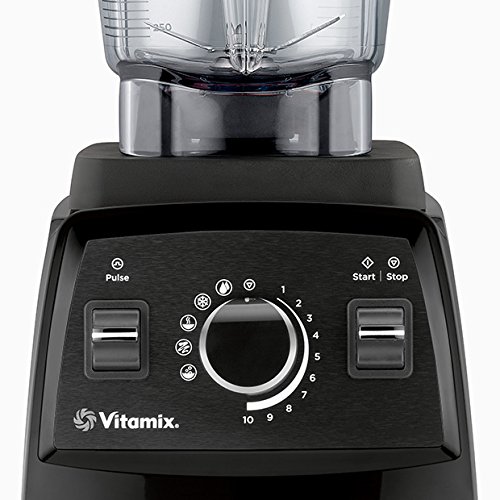 Let's move on to the control panel. The power switch of the blender is positioned at the lower right side of the base. On the front control panel, you will see a switch for Start/Stop (to start operation) on the right, a circle knob that you can rotate (rotate right to select any one of the 10 variable speed and rotate left to select any 5 of the preprogrammed cycles) on the center and to the left you will see a pulse switch.
My comment is only on the programs knob. Vitamix has opted to use only symbols to indicate their 5 programs which are smoothies, frozen desserts, hot soup, purees and self cleaning cycle. It looks really simplistic and gorgeous, but lacks usability and ease of understanding.
Only the frozen dessert and soup icons are self-explanatory. It would be much better if they could just write the description next to the icon for easy understanding.
I really don't want to refer to the manuals every time I'm not sure which function is which. Older people, specifically, would have quite a hard time to decipher to small icons. Besides that, the knob feels good and easy to operate.
The All Purpose Blender
Vitamix Professional 750 Series Blender is the rightful jack of all trades of a blender. It just can do everything, all from the same blender. Smoothies, frozen desserts, soups, purees, preparing ingredients (chopping, slicing, etc), ice cream, sorbet and lots more can be done easily using this blender.
It's all thanks to the super powerful motor that the blender has (more on that later on). The 5 preprogrammed settings will just make your life easier. Simply put your ingredients into the pitcher, switch on the blender and simply pick the setting you want.
Walk away and your delicious smoothie/soup/sorbet will be ready in less than a minute. For the full range of items that you can do with the Vitamix Professional 750, watch the video below. It shows the 13 possible use of the blender! Now that's a lot of usage!
Wider Blade And Quieter Motor
As mentioned earlier, in a bid to reduce the height of their blender, Vitamix's engineers designed a wider base. And they also equipped a wider 4″ blades with the new design.
This definitely is a good decision, as the cutting area of the blades become bigger, and more ingredients can be cut at the same time. The result: smoother consistency of smoothies for you and me =)
The motor is a 1440 watt motor, with a peak power of 2.2 horsepower or 1640 watt. Vitamix claims that this new generation's motor is equipped with their latest sound technology, making it quieter even when blending the toughest material.
Not only that, there is a radial cooling fan and thermal protection system in its base – critical parts to make sure the blender won't overheat while making you that delicious nut butter.
This will undoubtedly increase its durability so that you can use it everyday, for years to come.
A thing that I need to remind everyone is there are two types of blades for Vitamix Professional 750. As stated in their instruction manual,the default blade comes with the wet blade – marked with a "W" and have triangle shape blades.
This blade is perfect for most "wet" ingredients and purposes such as smoothie, soups, frozen mixtures – most of things that you will use your blender for. But to blend dry ingredients such as grain (e.g to change into flour), cereal, coffee, etc,
Vitamix suggests that it is best to use a dry blade which can be purchases separately. I believe it is best to follow this as you don't want to chip away your blade blending hard ingredients.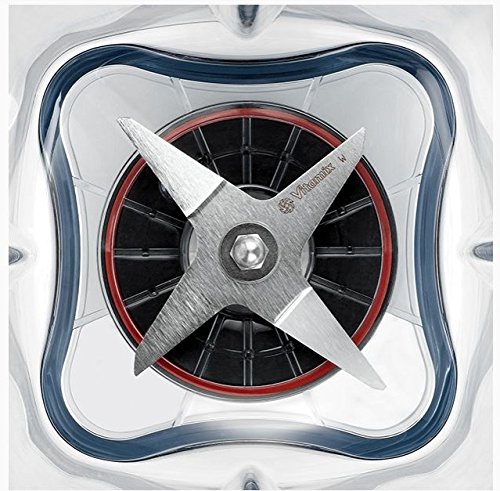 Notice the "W" engraving (top right leaf) on this wet blade
The Vitamix Professional 750 Series Blender is an all in one blender that will suits your every needs. It can do lots of different things, all in the convenient of one product.
Vitamix's powerful motor and its performance is somewhat legendary and does not need to be mentioned anymore. For sure, the price is quite high for a blender, but consider this a long term investment for you and your family.
Besides, you will get a 7-year full warranty from Vitamix with your purchase. That means, if you buy a low quality $90 blender which you are going to replace every year, by the 7th year, the amount of money you spent would already be enough to buy you this blender.
With your purchase, you will get a tamper, cookbook, manual guide and a DVD for instructions. Check out also the Vitamix website for lots of delicious recipes that you can try.
***************
So what are you waiting for? The best place to buy the Vitamix Professional 750 Series Blender is Amazon. It offers the cheapest price right now. Click the link below to check out the item on Amazon.